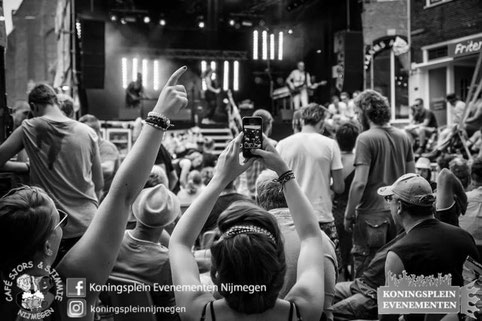 Alles is mogelijk maar hier zijn al wat opties:
Solo: covers of eigen werk. Zang en gitaar.
Duo: met bv gitaar of percussie erbij. Pelle Tiemens en Wouter Derks zijn daarbij de meest gekozen muzikanten maar  Sher werkt ook met vele anderen samen. 
Trio: dit is de meest gekozen optie voor bruiloften, kleine festivals en feestjes. Drums, twee gitaren en iedereen zingt. Dit trio heeft een repertoire van honderden nummers. 
Complete band: hiermee kan er flink wat geluid worden gemaakt.
Het kan alle kanten op maar Sher heeft ook heel veel setlijsten klaar liggen waar je inspiratie uit kunt halen 
Een akoestische Pink en/of Fleetwood mac avond
Een thema avond, zoals: Het Songfestival, jaren 90 etc. 
Zit jouw favoriete plaat er niet bij? Geen probleem, de daadwerkelijke lijst is vele malen groter en verzoekjes zijn altijd welkom. 
Pretender, Nothing else matters, Run to the hills, Break stuff, Killing in the name of, Sex on fire, Use somebody, Enter sandman, Song 2, Take a look around, Kryptonite, Summer of 69, Narcotic, Chelsea dagger, Bro Hymn, Mr Brightside, Smells like teenspirit, Last resort, In the end, What's up, Song 2,I love rock and roll, Alive, Kickstart my heart, Teenage dirtbag, Are you gonna be my girl, Pretty fly for a white guy, Basket case, Under the bridge, Devils dancefloor, All the small things, Slither, Everlong, Dream on and many more. 
Mamma mia, Wonderwall, Hey Jude, La bamba, Volare, The pianoman, Obladi Oblada, Living on a prayer, you give love a bad name, Friends theme, Lion in the morning sun, Walking on sunshine, 500 miles, Viva Hollandia, Little less conversation, Freed from desire, Dreadlock holiday, Bohemian like you, Why tell me why, Happy hardcore medley, Dance with somebody and many more.
Amsterdam, Abcdefu, Shivers, Love again, Levitating, Blinding lights, Watermelon sugar high, Better together, Midnight sky, Genie in a bottle, Arcade, Grow, Walk me home, Sweet but Psycho, Objection, Waiting on the world to change, Juste dance, No Mercy, That don't impress me much, What about us, Shut up and dance, Shape of you, Shake it off, uptown funk, Sex bomb, Can't stop the feeling, Raise your glass, uptown funk, Hey ya, No diggity, Africa, Chubawumba, Wrecking ball, Oops I did it again, SOS, Save tonight, want it that way, Love yourself, Pokerface, Budapest, Cant buy me love, New shoes, Bitch, Valerie, Girl, Unwritten, complicated, I can see clearly now, 8 days a week, saw her standig there, Wicked game, I would stay, Brown eyed girl, Hard days night, Help, No diggity, Hero, Larger than life, Lose yourself, Bailamos, Man i feel like a woman, Roar, Mercy, Rolling in the deep, Lean on, Man down and many more.
We will rock you, La Grange, Tush, Stairway to heaven, Tie your mother down, Stairway to heaven, Go your own way, The chain, Here comes the sun, Highway to hell, Life in the fast lane, Helter skelter, Billy Jean, One way or another, So lonely, Africa, Hold the line, Sweet child of mine, Hotel California, Born to be wild, Don't stop me now, Live and let die, Everlong, Me and Bobby McGee, Keep on rocking in a free world, Rockin' all over the world, Whole lotta Rosie, Crazy little thing called love, I want to break free, Whole lotta love, Knocking on heavens door, House of the rising sun and many more.
Amsterdam, vluchtstrook, Ik ga zwemmen, Suzanne, Blijven slapen, Bloed, zweet en tranen, Goud, Smoorverliefd, Duurt te lang, links/rechts, Liever te dik in de kist, Leef, Nee je hoeft niet naar huis vannacht, Kronenburg park, Zij gelooft in mij, Neem me mee, Brabant, Zoutelande, Het is een nacht, zo ver weg, Kleine jongen, Malle Babbe, Stil in mij, Parijs, Ik kan het niet alleen, Groot hart, Je denkt maar dat je alles mag van mij, Een eigen huis, Hemel en aarde, Ademnood, Niet of nooit geweest, Kom van dat dak af, Oerend hard, Ik heb je lief en vele anderen.
Arcade, Without you, You'll never walk alone, Unchained melody, Someone like you, Tenerife sea, Michel, Sacrifice, All of me, Street spirit, And I will always love you, Fast car, Rise like a phoenix, Titanic theme song, Hero, Landslide, Songbird, Hallelujah, With or without you, Purple rain, Jessie, Rhiannon, Halo, Landslide and many many more. 
Respect, Proud Mary, Hot stuff, Neh nah nah, I will survive, You make me feel, I'm so excited, Signed sealed delivered, superstition, Reach out I'll be there, Stand by me, Long train running, Meredez Benz, Talking about a revolution, Give me one reason, You do something to me, Hit the road Jack, Sitting on the dock of the bay, Hot stuff, Soul man, My girl and many more. 
Blue suede shoes, tough lover, Johnny B. Goode, Tutti frutti, Jailhouse rock, Barbra Ann, Bird is the word, I'm a believer, Great balls of fire, Johnny's got a boom boom, Shake your tailfeather, Umbrella, Rock around the clock, Long tall Sally, Mack the knife, Shout and many more.
Jolene, Outlaw in em, The weight, I walk the line, Folsom prison blues, Country roads, Calypso, Annie's song, Thank God I'm a country boy, Need you now, Genevieve, Tenessee Whisky, Wade in the water, Take it easy, You are my sunshine, Man of constant sorrow, Sweet home Alabama, Let me toch you for a while, These boots are made for walking, Why Georgia, Jackson, If it hadn't been for love, Wayfaring stranger, Bad moon rising, Dimming of the day, You'll never leave Harlan alive and many more.
Molly Malone, Whiskey in the jar, Black velvet band, Spencer the rover, The wild rover, Scarborough fair, Belfast child, Hills of Athenry, Mull of kintyre, I am the voice, Orinoco flow, Song for Ireland, Galway girl, back home in Derry, The parting glass, She moved through the fair and many more.
Lief, Bow, Playtime, De bromvlieg, Coolin' down, Zach, Fire, Bathroom door,  I wish I'd known, The belly song, Sams lullaby, nobody's first, cotton rain and many more.